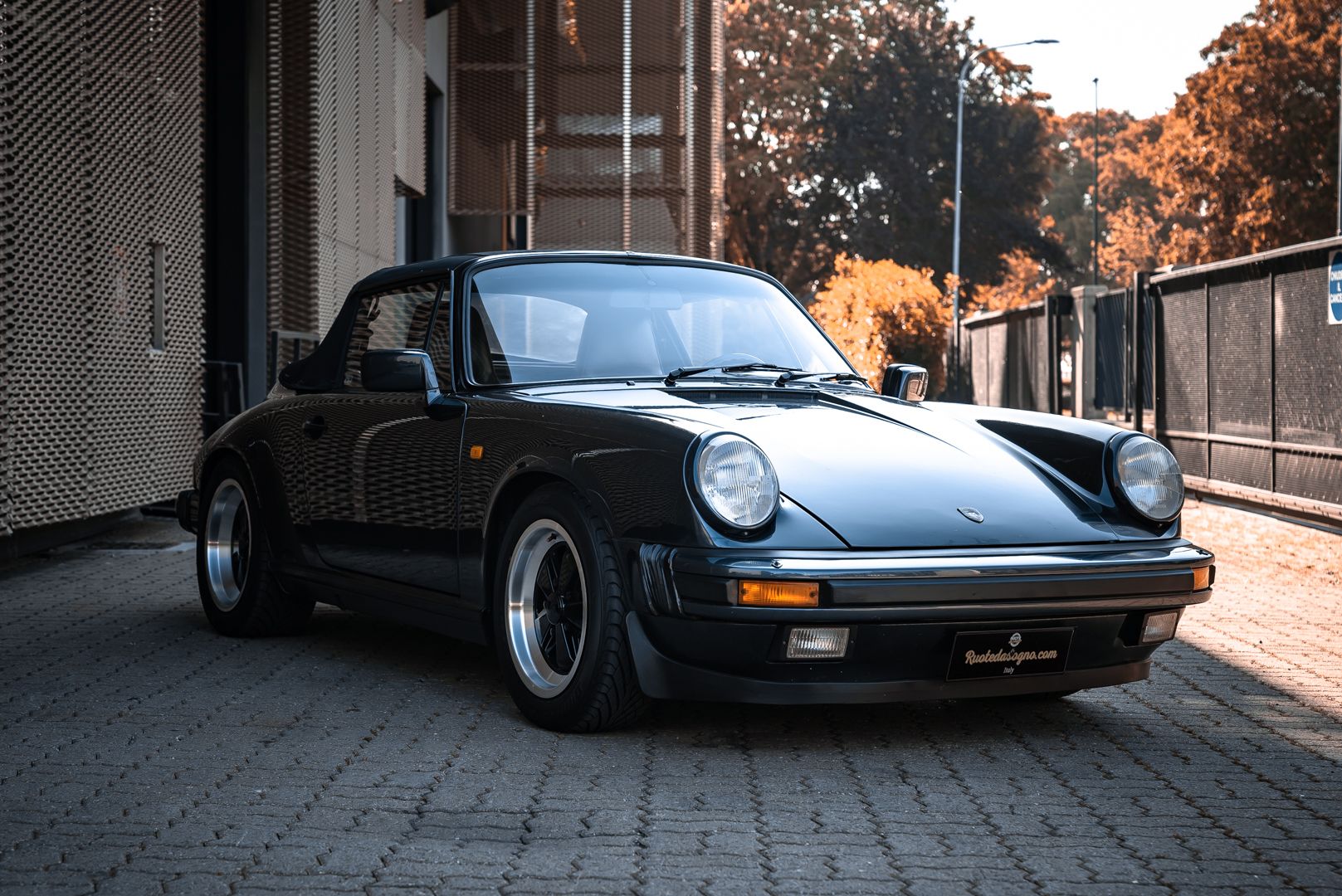 1986 Porsche 911 Carrera 3.2 Cabrio
Model

911 Carrera 3.2 Cabrio
Body colour

Metallic Blue

Interior colour

Black Leather

Registration

ASI, Certificate of Origin
Chassis no WPOZZZ91ZGS152203
Engine no 930/21 – 64G07010
Displacement 3.125 cc
Engine Boxer 6 Engine
Power 228 HP (170 kW)
Gearbox Manual 5 Speed
Drive Rear WheelDrive (RWD)
Speed max 245 kph

ASI Certificate N. 023050
Porsche Certificate of Origin

The new 911 Carrera with a 3.2-litre engine was unveiled in 1983 at the Frankfurt Motor Show.
Ignition and injection are now managed by the Bosch Motronic system, which sets the operating conditions of the engine according to the temperature of the heads and pistons.
The power increases to 228 hp, all of which can be safely exploited thanks to the increase in displacement and the adoption of a more powerful braking system, able to guarantee reduced stopping spaces even on wet spaces.
The dimensions of disc brakes have been increased to promote more effective heat dissipation and, on the engine, and oil chain curtains have been mounted.
The new red rear band and fog backs were introduced.

- Good body and mechanical condition, periodic reviews carried out by its last owner
- Well-preserved black leather interior, such as door panels
- Original instrumentation, fully working
- Original leather steering wheel
- Periodically overhauled and serviced engine
- BBS Rims
- 80% tires
- Grids, moldings, writings, and new emblems.
- Black capote in excellent condition
- Coupon booklet

Optional
Retractable CD radio, battery safety detach system, windbreak, spacer ring on the steering wheel, electric capote, anti-glare front glass.
Recent works
Stainless steel undercover tank protection, stainless steel exhaust terminal, full clutch replaced, odometer replacement.
This classic 911 Carrera 3.2 Cabrio represents an excellent investment destined to maintain its value in the medium term, like all Porsche Cabrio and Targa models.
You can view the car online, booking a call with one of our commercial operators, via Skype, Zoom, WhatsApp and Google Meet platforms.