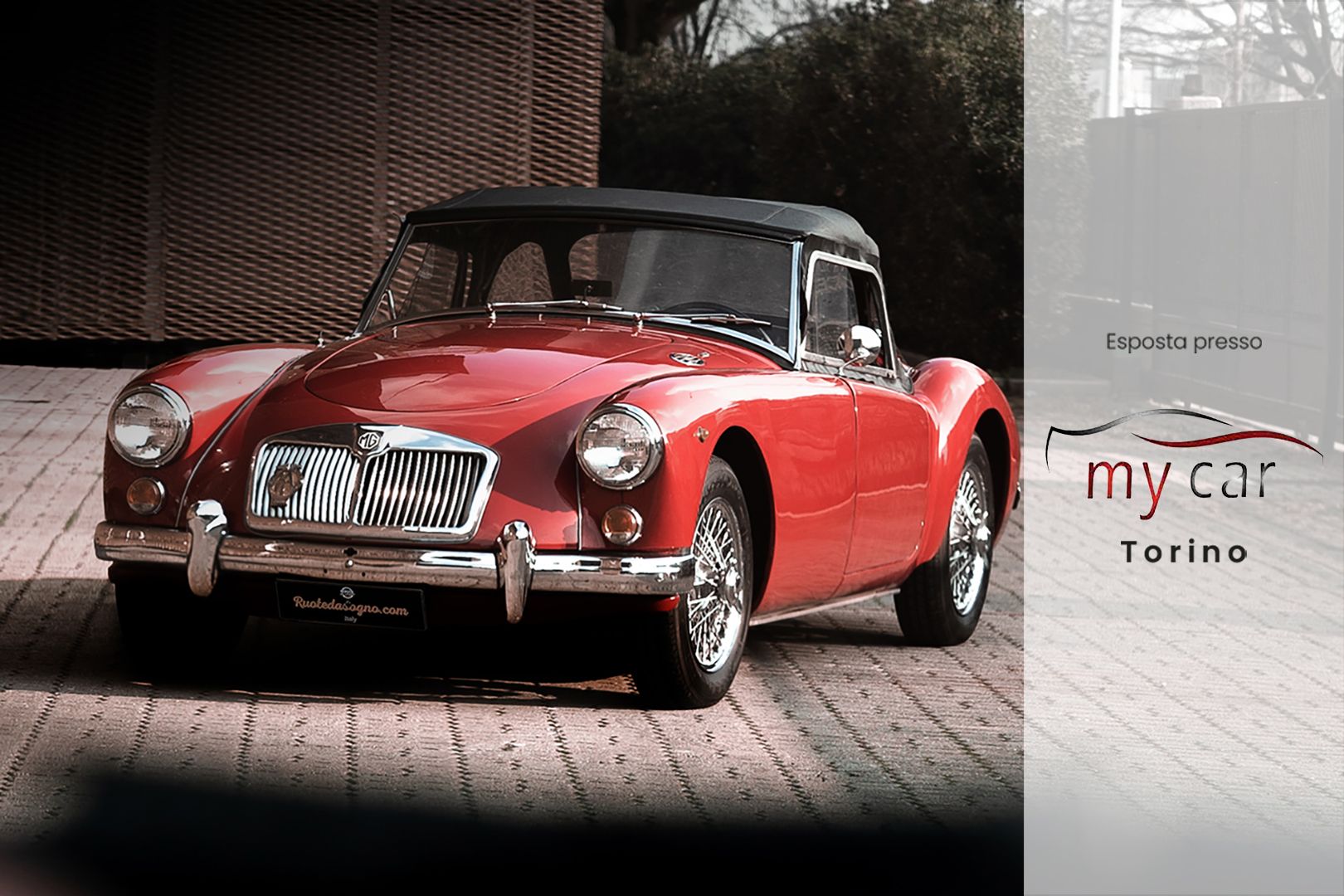 1961 MG A SPIDER 1600
Registration

ASI Gold Plate
Chassis Number: 88972
Max Power: 92 HP
Max Speed: 163 kph
-
Certificate and statements: ASI Gold Plate No.23044
AA Plate – British Automobile Association
Recent Restoration

The History
In May 1959 the MGA 1600 was born with an 80 hp engine, an increased displacement to 1588 cm³ and Lockheed disc brakes.
Externally the car is very similar to the previous MGA 1500, but there was some small differences: amber or white front indicators with separated taillights, removable sliding side windows and the "1600" badge on the trunk and bonnet.
Heir to the T-Series, it is called A to emphasize the turning point it represents: lower frame and greater driveability. Its soft and connected style garners acclaim everywhere, especially abroad and in less than three years 31,501 were produced, making it the most exported UK model ever.
In 1961, the 1600 Mark II and 1600 Mark II De-Luxe versions were launched, with a 92 hp engine with a displacement of 1622 cm³ increasing the reaming from 75.4 mm to 76.2 mm and a ratio to the higher deck that made driving more comfortable at high speeds.
During this period the BMC sold 101,081 MGA of all variants, the vast majority of which were exported, especially to the USA; with only 5,869 cars sold in the domestic market, the MGA has the highest export percentage of any other British car.

Our MGA 1600
In recent times has been done a total restoration of the high-level body work and today the car is totally original, with new bumper, new luggage rack and badges.
The engine has been fully overhauled and many components were replaced or restored.
The black interior has been also restored, as the seats (with refined red edges) and the cladding of the door panels and dashboard.
The original instrumentation is fully functional with original four-spoke metal MG steering wheel.
The gearbox, with original knob, is fluid and with precise gears while driving.
Well-preserved black capote, without water drawings seen on the inside.
Original ray rims with new tires. Disc brakes.
A real British with unchanged charm with stable quotations in the medium term, but able to satisfy even the most demanding fan of the brand.

Accessories: Racks, depth headlights, leather interiors, chrome-plated ray wheels, mirrors, aluminum fin prop lid, chrome carburetor carters.
It is possible to view the car online, booking a call with one of our commercial operators, via Skype, Zoom, Whatsapp and Google Meet platforms.