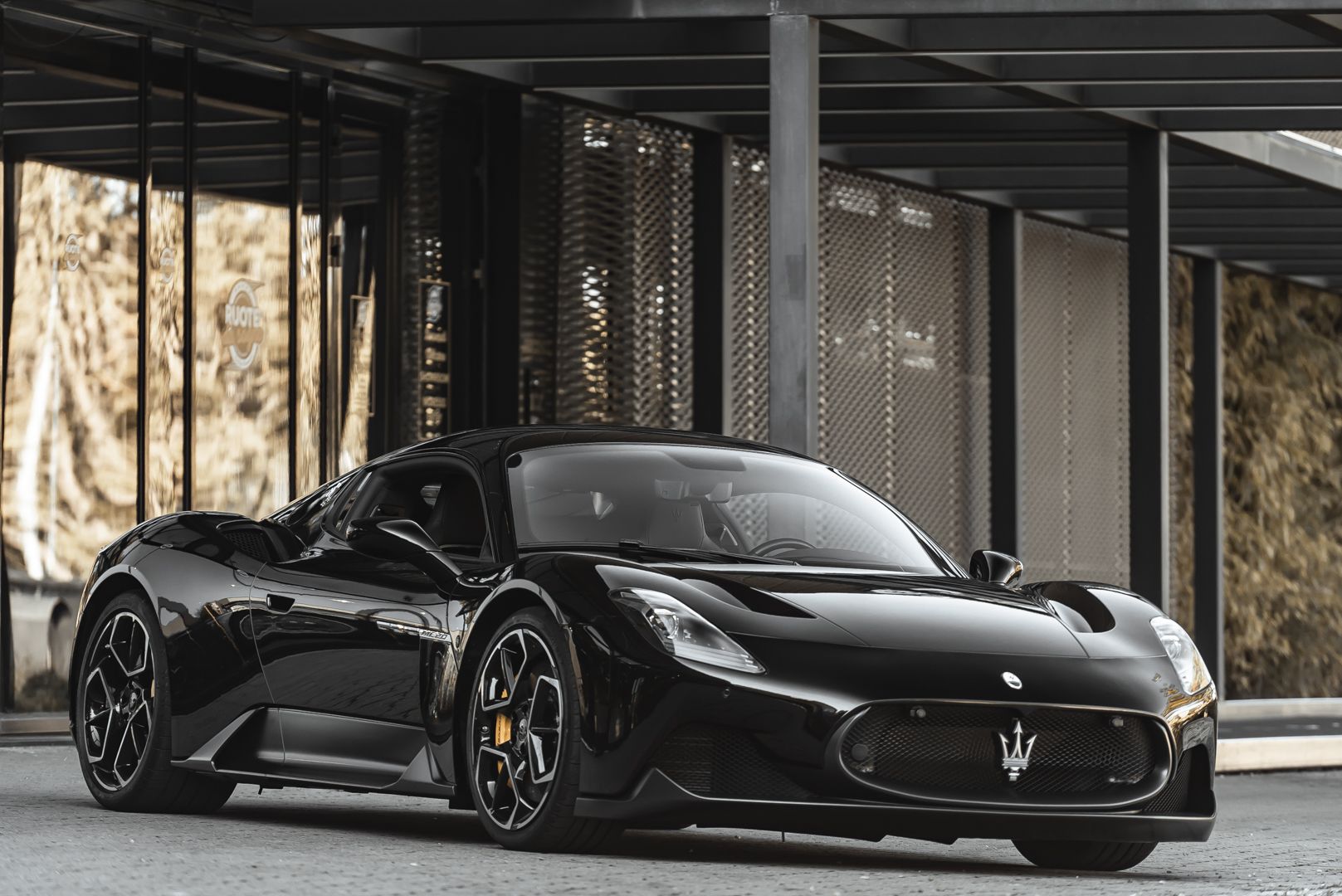 2021 Maserati MC20
Interior colour

Black Leather
Power KW 464,00 – 630 Hp
Max Speed 325 kph
0 to 100 kph: 2.9 second

The sporty nature of the two-seater Maserati MC20 emerges from the name: "MC" stands for Maserati Corse (as in the previous MC12 hypercar), while 20 is the year of the launch.
The bodywork has the momentum and grit you would expect from a supercar, showing elegance and great balance in its shapes.
The upwards doors opening system is of great impact, as well as the rear window with carvings in the shape of the Trident, the emblem of the Maserati.
The cockpit is both refined and racing, with large areas of carbon fiber on sight, the buttons that control the gearbox and two 10" screens. The multimedia system is always connected and can dialogue with smartphones through the Maserati Connect app.
Behind the seats is the 3.0 V6 biturbo, the first engine developed internally by Maserati with exceptional performance. The eight-speed double clutch transmission and dry carter lubrication guarantees the correct oil inflow even in the corners faced at high speed.
Certainly, a self-identity, performance and sophisticated car that is identified with the worldwide relaunch of the "Tridente" with the focus between tradition and innovation.

Optional
QBRM Carbo Ceramic braking system
QDSF E-LSD Transmission
Q111 20" Birdcage Matte Black Diamond Wheels
Q1P1 Sewn on headrest Tridente
Q79U Steel Door Sills
Q42B DAB Digital Radio
Q04B Glossy Carbon Moldings
QJTD Power Sport Confort Seats with 6 adjustement
QRTK Europe Connectivity Service
Q050 Speedometer with metric system
Q6BP Sports steering wheel with carbon fiber details
Q4HD Front Car Lift System
QLSA Alarm system
QB3Y Yellow Caliper
Q452 Heated front seats
Q1LR 20" Birdcage Matte Wheels
Q732 Premium and Alcantara interiors
QRVC Premium Sound System (6 speakers)
Q0YB Custom carpets
QRB4 NAVI System
QRDG TBM

Standard equipment
ABS, Electronic Stability Control, Electronic Traction Control, drivers and passenger airbag, front side airbags, head airbags, front electric windows, automatic air conditioning, two-way automatic air conditioning, on-board computer, electric-adjusting pilot and passenger driver seat with memory, anti-theft with alarm, central lock, uphill back control, cruise control, front and rear parking sensors, pneumatic pressure sensors, variable assistance power steering , alloy wheels, heated electric rear-view mirrors as standard and foldable, metallic paint, steering wheel controls, Radio, Bluetooth, Navi System.

It is possible to view the car online, booking a call with one of our commercial operators, via Skype, Zoom, Whatsapp and Google Meet platforms.