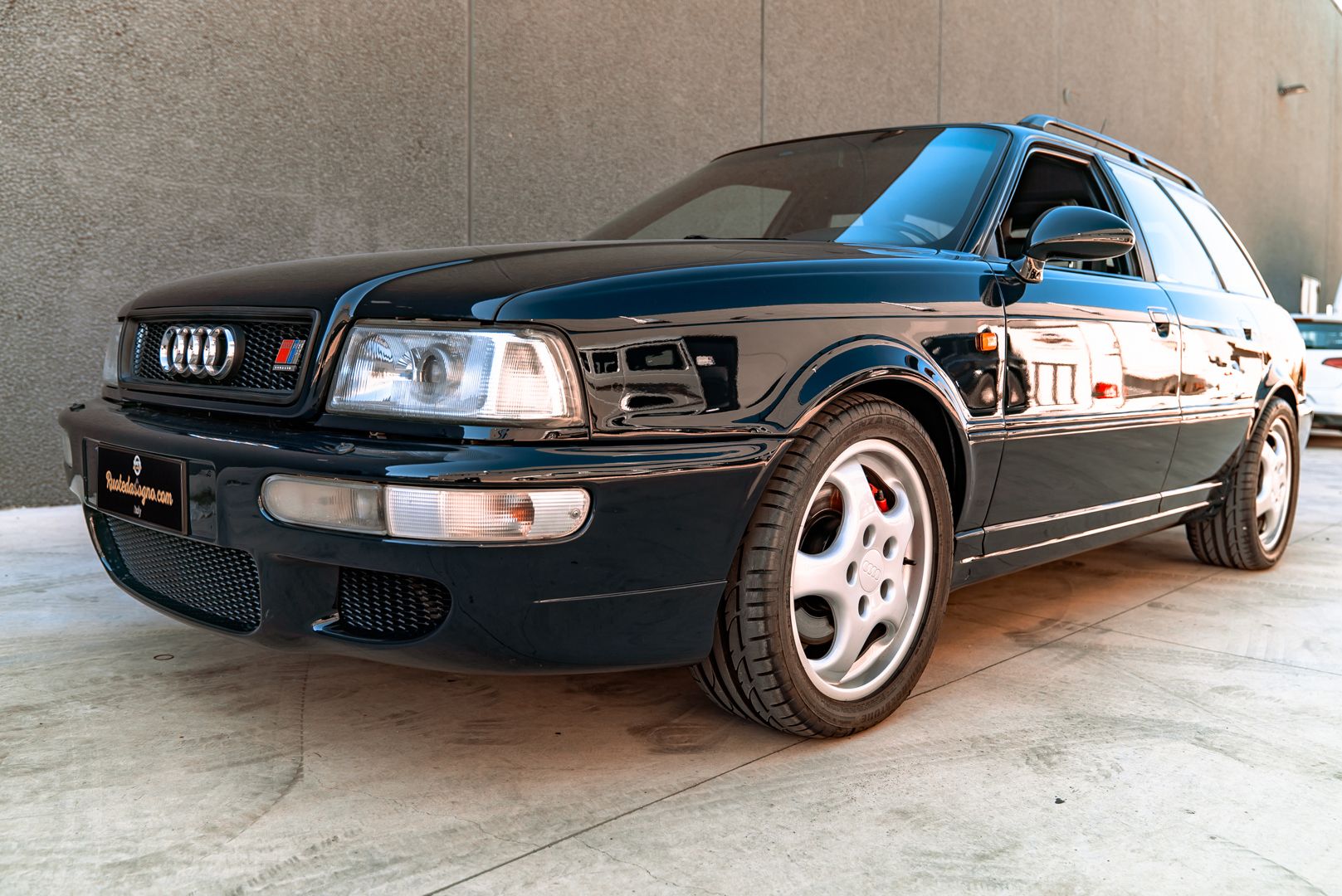 Sold
1994 AUDI RS2 Avant
Interior colour

Blue Leather
Chassis no. WACZZZ8CZRZ000570
Power max 232 kW (315 HP)
Drive AllWheelDrive (AWD)
Gearbox Manual 6 Speed
Max Speed 262 kph
Acceleration 0 to 100 kph in 5,4 seconds
First registration in Germany

In 1993 Audi over-produced the Audi 80 Avant and decided to develop a truly sporty version to enhance its image, in collaboration with Porsche, which was almost close to bankruptcy at the time.
Porsche would take care of the engineering to make a comfortable and versatile Audi into a sport car. The 5-cylinder 2.2 turbo was updated with new crankshaft, new injectors, new fuel pump, increased "KKK" turbo, new intercooler, new pistons, new camshafts, new exhaust ducts and sports catalyst.
The engine was transformed into a monster: it delivers 315 horsepower at 6,500 rpm and 410 Nm of torque at 3,000 rpm, with four-wheel drive and manual six-speed gearbox.
Still an Audi, but the small label 'RS2' on the grille near the four-ring Audi logo bears a bewitching Porsche lettering.
The production, according to sources, from '94 to '96 was about 2900 pieces.

- Car registered in Germany with Italian documents
- Dazzling conditions, with paint and mechanics in excellent condition
- Regularly maintained by previous owners
- Original Recaro seats
- Door panels in excellent condition
- Original leather steering wheel
- Internal console and briar insert as new.
- Friezes, moldings and writings in excellent condition
- Restored rims with 80% tires.

The car is in perfect efficiency and can still reserve a lot of gratification to its next owner.
You can see the car online, booking a call with one of our commercial operators, via Skype, Zoom, WhatsApp and Google Meet platform.