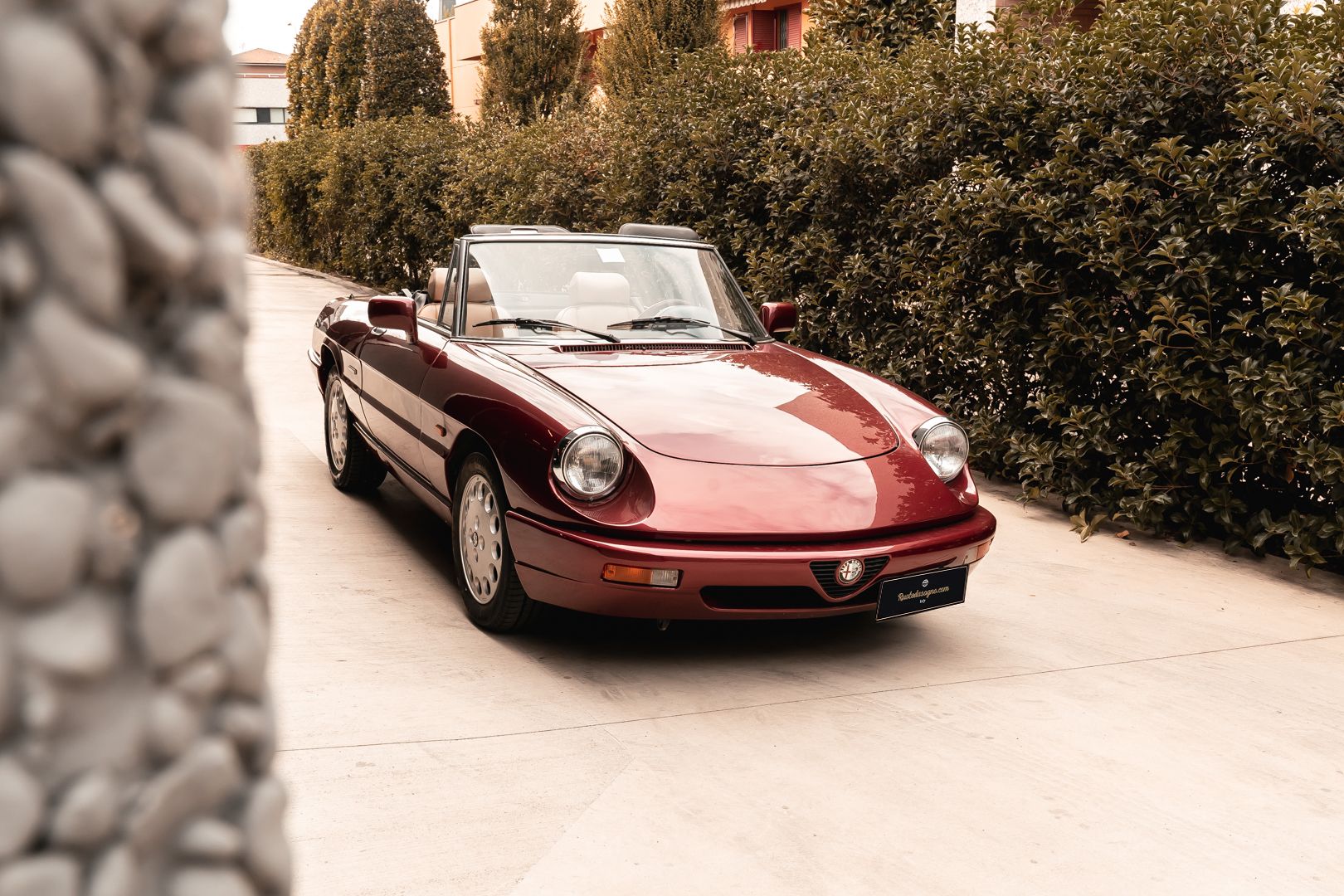 1990 Alfa Romeo Duetto 2000 IV Serie
Model

Duetto 2000 IV Serie
Interior colour

Cream Leather
Chassis no. ZAR1150006004925
Power 90 kW (122 HP) at 5.800 rpm
Drive Rear Wheel Drive (RWD)
Gearbox Manual 5 Speed
Top Speed 192 kph
Acceleration 0-100 kph in 10,3 seconds

In the last series of autumn 1989, Pininfarina returns to its origins, designing a Duetto with clean and streamlined lines obtained by the elimination of the appendages that weighed down the line; with the disappearance of the spoiler the look is slimmer and decidedly captivating.
The bumpers are integrated, more recessed and in the same color as the bodywork, the logo on the front shield, the side skirts replaced by side member covers.
The new electric rear-view mirrors adjustable from the inside and the taillights are redesigned in the style of the flagship Alfa Romeo 164.
The mechanical scheme remains unchanged and the Spider is offered in the 2,000 cm³ version with electronic injection and equipped with a phase variator that acts on the intake shaft.
The Duetto is equipped with a 126 HP AR01590 engine and a 120 HP AR01588 engine equipped with catalyst and lambda probe and initially marketed on the US market.
The standard upholstery is in sky beige or black, the central part in alcantara, the leather upholstery is optional with a surcharge, the seats are set back a few centimeters and the standard power steering is adopted on all of them.
The fourth series of the Duetto 2.0 was produced between 1990 and 1994 in 18,456 units, all with the hard-top option as an accessory.

- Alfa Romeo Garage Certificate
- The car has its original Alfa Romeo Hard Top

It is possible to view the car online, booking a call with one of our commercial operators, through Skype, Zoom, WhatsApp and Google Meet platforms.