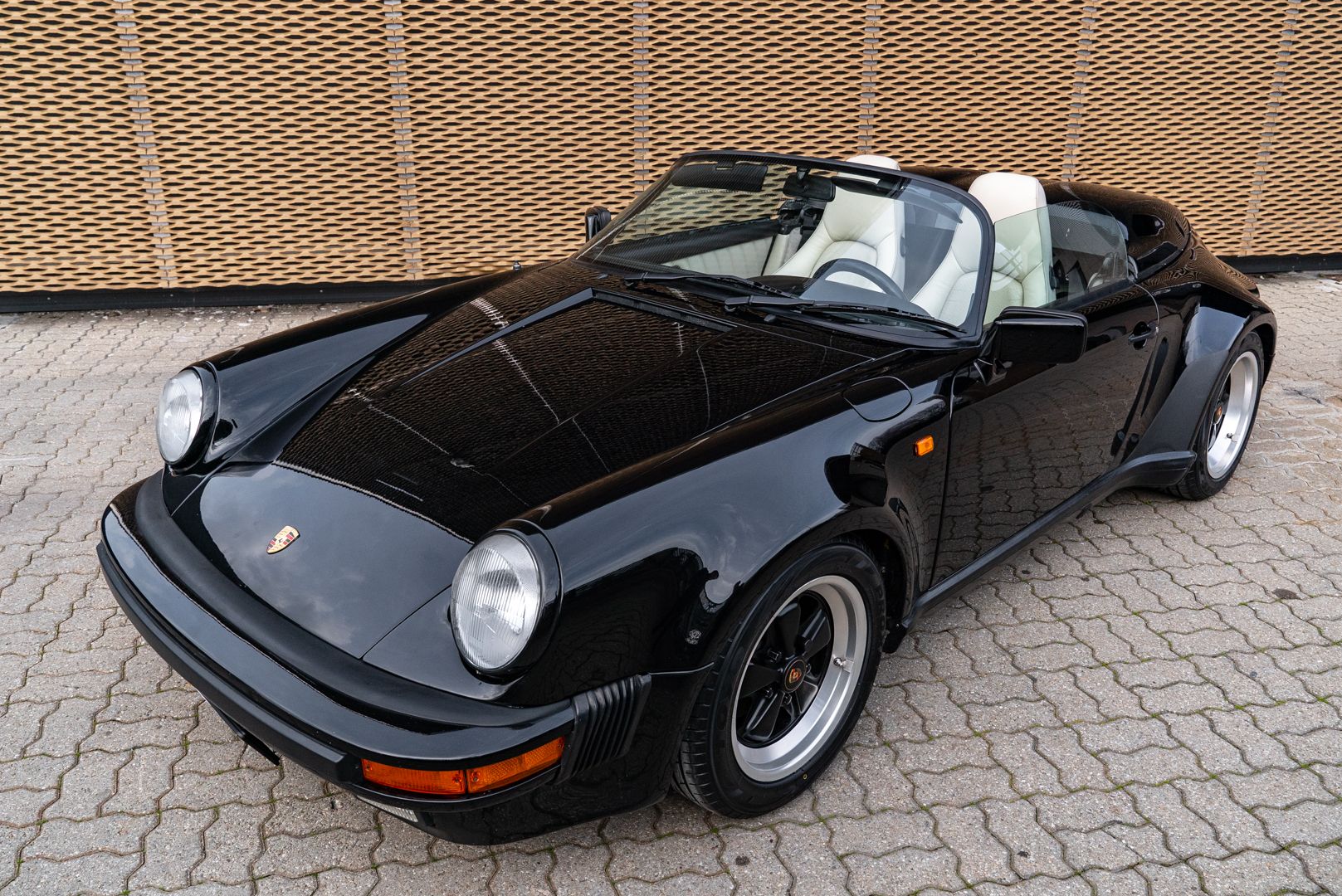 1989 Porsche 911 Speedster Turbo Look
Model

911 Speedster Turbo Look
Authenticity

Matching Colors & Numbers

Body colour

Black (Schwarz)

Interior colour

White Leather

Registration

ASI, Certificate of Origin
Chassis: n. WPOZZZ91ZKS173554
Odometer reading: 000249 kms – previously 33.506 miles
Power: 170 kW (231 hp)
Torque: 284 Nm
Max Speed 245 kph
ASI Registration
Porsche Certificate of Origin
-
The Speedster modeled other versions produced over the years in limited series, with which Porsche sought the utmost simplicity and lightness, offering sportier cars without a series of luxury accessories.
Simplified interiors and free of superfluous servomechanisms. In particular, with the Speedster, was resumed a path started with the homonymous version of the 356 from the 1950s.
It differed substantially from the convertible version for the lowering of the windshield, for the replacement of the hood with another smaller one, for the lightening of the bodywork (Turbo look) and for the fitting. The absence of side deflectors and other details, made this car very light and significantly improved its performance compared to the traditional version. The production of the 911 Speedster closed in 1989 with 2,104 units in the "Turbo look" and "Slim" versions. In Italy only the Turbo look version was marketed in about a hundred units.
-
The car was delivered new in the USA in 1989. The bodywork and painting are in very good condition, ready to go in a wonderful color combination: black with white leather interiors.
This Porsche has also the Porsche Certificate of Origin that certifies the chassis number and the original colors combination.
ASI Certificate and Registration.
Origin optional: leather steering wheel, Blaupunkt Radio, short gear lever, electrically adjustable sports seats, tempostat and air conditioning.
Rims restored as new, 90% tires.
The black capote is in perfect conditions.
It is possible to view the car online, booking a call with one of our commercial operators, via Skype, Zoom, Whatsapp and Google Meet platforms.