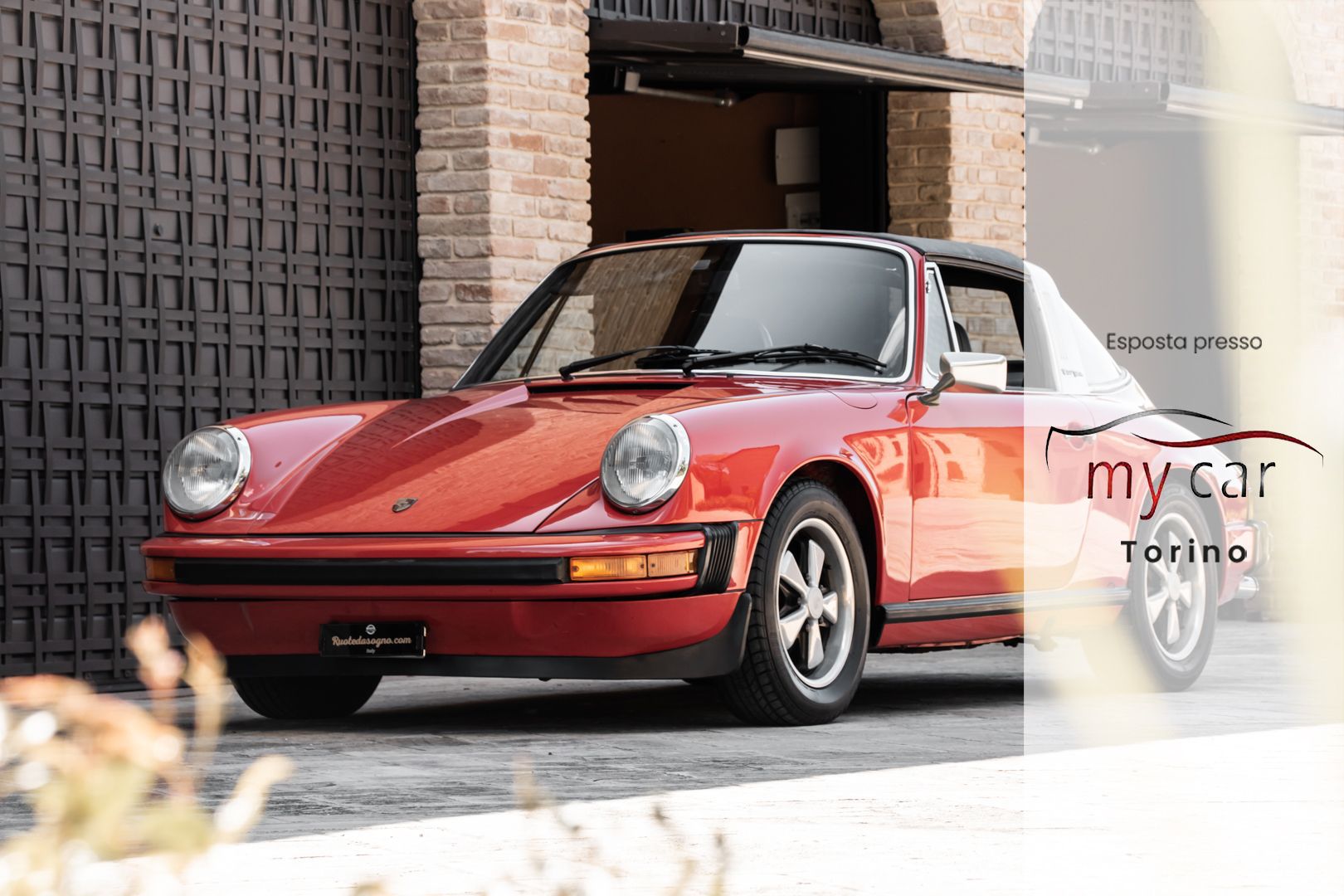 1974 Porsche 911 S 2.7 Targa
Interior colour

Black Leather

Registration

ASI, Certificate of Origin
Chassis no. 9115310091
Engine Boxer-6
Displacement 2.687 cc
Max Power 174 HP
Top Speed 210 kph
Acceleration 0 to 100 kph in 8.5 sec.
Drive Rear WheelDrive (RWD)

The Porsche 911 was unveiled in 1963 at the Frankfurt Motor Show, the German coupe was initially named 901, but legal problems with Peugeot (the French manufacturer had recorded all the number acronyms with zero in between) led to the legendary name 911. The Porsche 911 Targa had a removable hard roof and was equipped with a fixed roll bar, a very rare thing for the time, which offered valid protection in case of overturning or accident.
Over the years the Targa versions became a real hallmark for the 911.
The first Porsche 911s had a very angry road behavior: a marked understeer that forced the steering wheel to turn excessively, therefore, on the way out of the corner the car tended to become oversteer risking the triggering of a skid very difficult to control.
In 1968 the designers intervened by increasing the wheelbase by 57 mm. In later evolutions, power, and displacement steadily increased.
The original 911 series was produced until 1974.
The different versions are marked with letters identifying the engine: 911 T, i.e. Touring, basic model of 110 and then 130 horsepower, in addition to the 4-speed gearbox; 911 L, the "normal" version one step above the T; 911 E, from 1969 new name of the L with the switch to engine 2.2 (140 to 165 horsepower).
With the third generation of the Porsche 911, considerable power levels were reached, and the Targa definition was awarded to it in honor of the sixth overall victory in the "Targa Florio" of 1966. With the introduction of this model, Porsche achieved the highest safety standards for the time, enclosed in a state-of-the-art design and with the original solution of a removable and foldable roof that could be stored in the front trunk. The engines of the Porsche 911 became less polluting thanks to the possibility of using low-octane petrol and, nevertheless, delivering considerable power.

- Excellent body and mechanical condition, recent engine restoration.
- Restored interior, seats, and black leather look like new.
- The dashboard, including the painting of the original instrumentation, is well preserved, fully functional and covered with the original leather of the House.

This car is an excellent investment for any collector of the Porsche brand.
It is possible to see the car online, booking a call with one of our commercial operators, via Skype, Zoom, WhatsApp and Google Meet platforms.