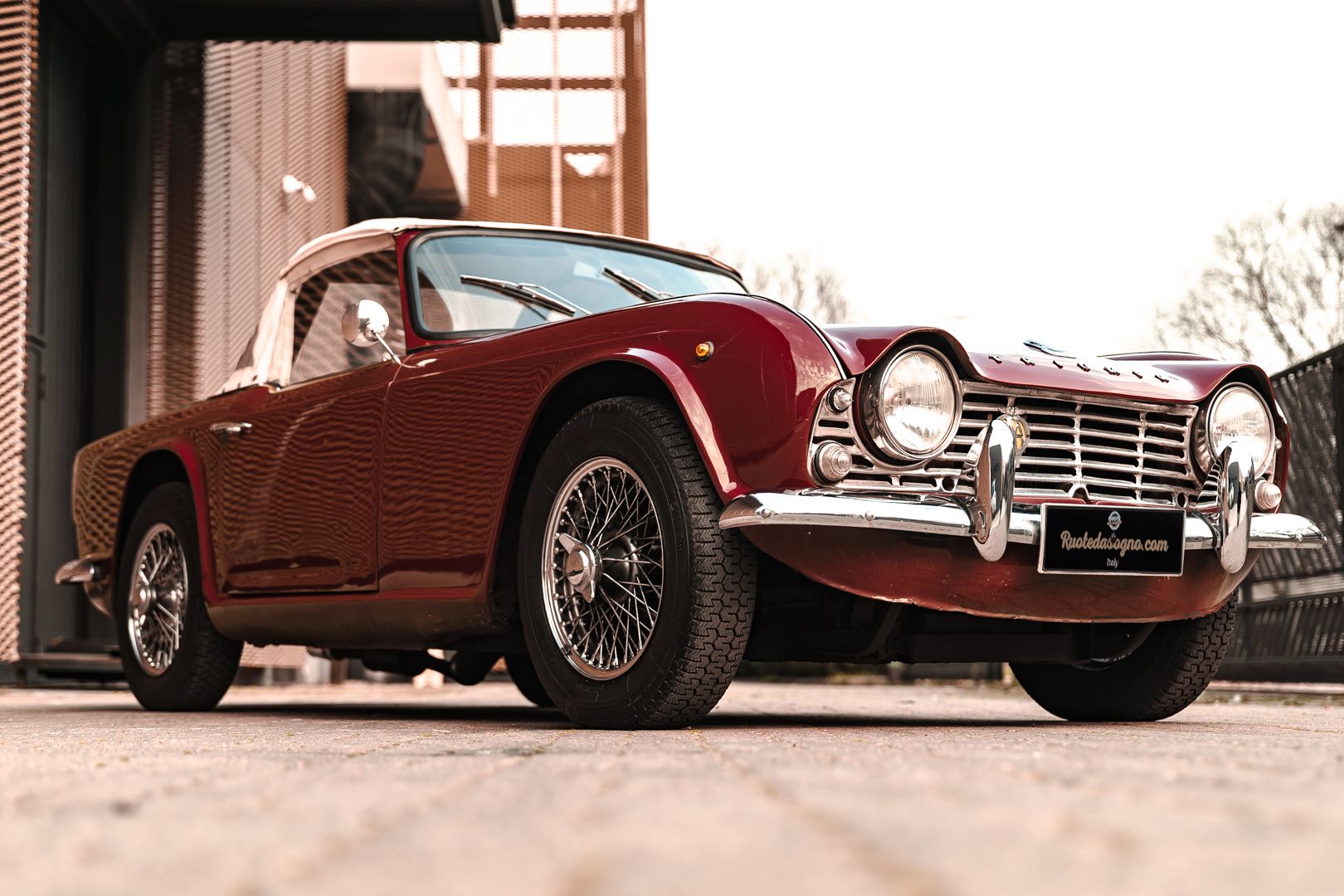 1963 Triumph TR4 Sport
Gearbox

Manuale 4 rapporti

Registration

ASI Gold Plate
Price upon application
Chassis no. 12998
Engine no.10366
Max Power: 104 HP (76 kW)

Duplicate of the keys
Certificate and Statements ASI GOLD PLATE n. 3164

The History
The Triumph TR4 was launched in 1961 (to change the old sister TR3), designed by Giovanni Michelotti the car bring a lot of new features such as the new 2.2 liter engine, with a synchronized gearbox and a new steering box.
Other new features were the side windows, internal vents and a innovative hard top (from which the Porsche Targa was inspired) it consists of a bolted rear window and a removable rigid central section, also available in the canvas version named "surrey top".
The dashboard was restyled too, with the top area covered of "vynide" and the main dials which was in front of the driver. The remain of the dials was positioned in the black center panel, below which there are the switches and the radio. The 3 spoke steering wheel was in bachelite and metal.
As optional the Triumph offered also the spoked wheels, meanwhile in the USA the car was sold with aluminium and magnesium alloy rims.
Historical note: three TR4As with independent suspensions came in the top three positions of their class, in the 12 Hours of Sebring in 1966.
In the early 1960s Ducati in Bologna signed an agreement with Triumph to start an Italian production of TR4, but the contract was not as successful as expected and Ducati simply imported Triumph's car and spare parts. However, at least 20 Triumph TR4s (recognizable by the back logo) were produced by the Bolognese assembly line.
The TR4 was a great commercial success, from 1961 to 1965 as many as 40,253 were produced.

Our Triumph TR4 Sport
The chassis and engine number of this car are matching, totally restored in a really beautiful dark red painting and white capote, with black leather interiors. The engine, overhauled recently, is full of power as the original, with some component replaced. Inside the car the dashboard is the Triumph original, with the metal 3 spoke steering wheel. The refined briar dashboard is well preserved. The black carpet has been replaced with a new one on the floor of the car.
The white capote, restored in recent times, is in good condition and from the inside there are no water leaks.
On the front the car has disk brakes, and on the 4 wheels of the beautiful original spoked rims.
On the rear of the car there is the typicall luggage rack.
There is available an other set of the key.
Maintenance invoices available on request from year 2010 onwards.
A real British with unchanged charm with stable quotations in the medium term, but able to satisfy even the most demanding fan of the Coventry brand.

It is possible to view the car online, booking a call with one of our commercial operators, via Skype, Zoom, Whatsapp and Google Meet platforms.