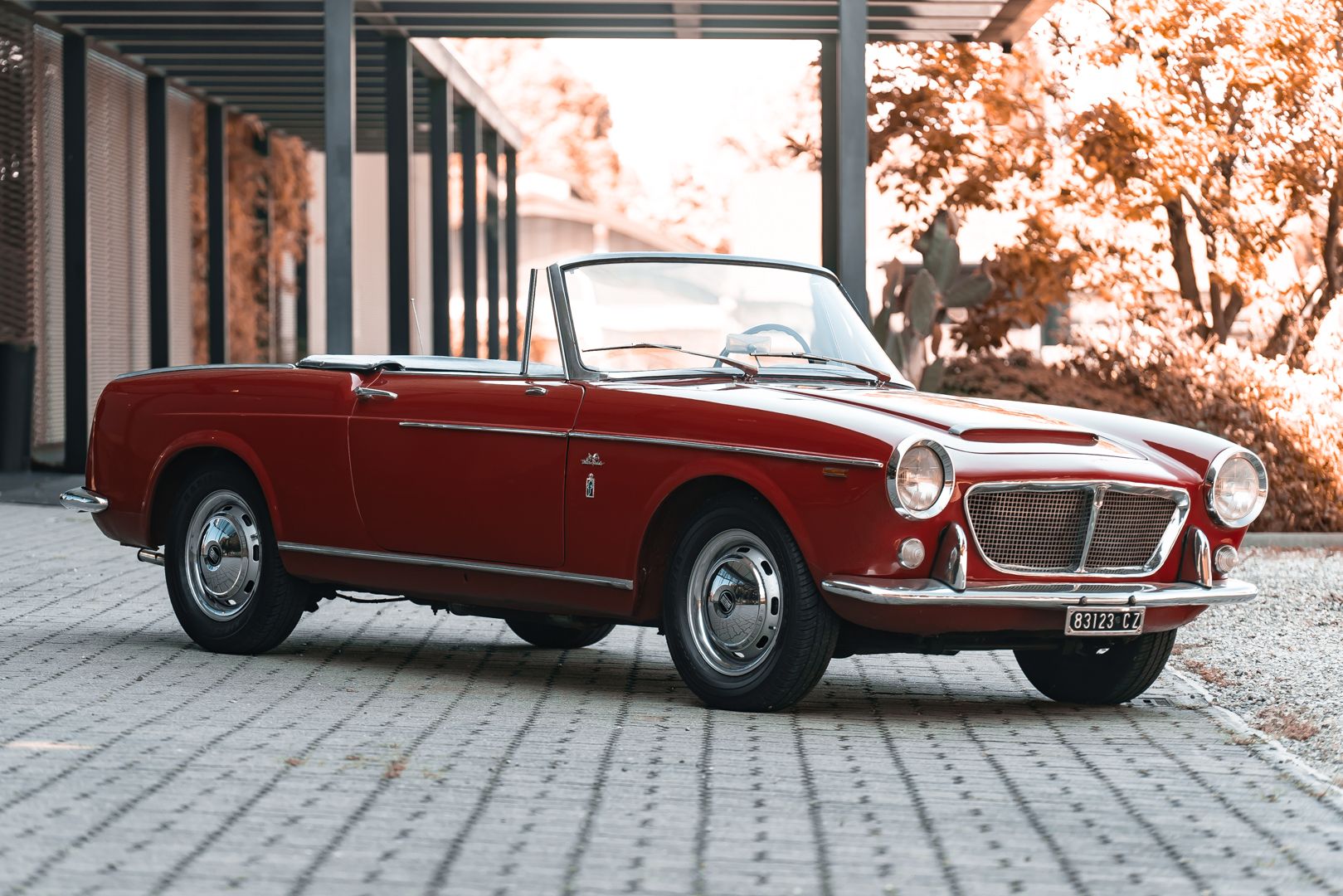 1962 Fiat 1200 Cabriolet Pininfarina
Model

1200 Cabriolet Pininfarina
Interior colour

Dark Blue/Red
Chassis nr. 021456
Power 54 HP
Gearbox Manual 4 Speed
Drive Rear Wheel Drive (RWD)
Original Black License Plate, Catanzaro
Restored

Contrary to its fame as a family car manufacturer, Fiat has almost always had sports models on its list for sale.
Between 1959 and 1966 two series of Coupé and Cabriolet were made, driven by Pininfarina, derived from the Fiat 1200 Transformable. Those were cars with a sporty appearance but equipped with underperforming engines and not competitive with the most direct opponents, like the sports versions of the Alfa Romeo Giulietta.
Fiat therefore decided to create a spider with a more elegant and European taste for a more mature market. The refined body work designed by Pininfarina was therefore installed on an unchanged mechanics, except for a slight increase in power to 59 hp of the 4-cylinder 1221 c.c.
The Fiat 1200 Cabriolet Fiat, unveiled at the 1959 Geneva Motor Show, was a true two-seater spider.
The 1200 was so commercially successful and it quickly became the most popular convertible in Italy, with over 15,000 units sold from March 1959 to March 1963.
For those days, that was an absolute success.

- Very good conditions of painting and mechanics
- Kept in good condition from its previous owner for sporadic use
- Restored interior, two color dark blue/red seats: almost no traces of scratches or wear and tear
- Doors panels are in good general condition.
- Fully original and fully functional instrumentation
- Original Fiat three-spoke steering wheel in Bakelite and metal
- Engine recently overhauled, fully functional and well running
- Original grille and front frame
- Original bumpers with chrome plating in excellent condition, as well as tires
- Well-preserved original taillights
- Capote in black canvas is free of scratches or tears, no infiltration of rainwater is detected or during the washing of the car
- Original License Plates and papers

It is possible to see the car online, booking a call with one of our commercial operators, through Skype, Zoom, WhatsApp and Google Meet platforms.