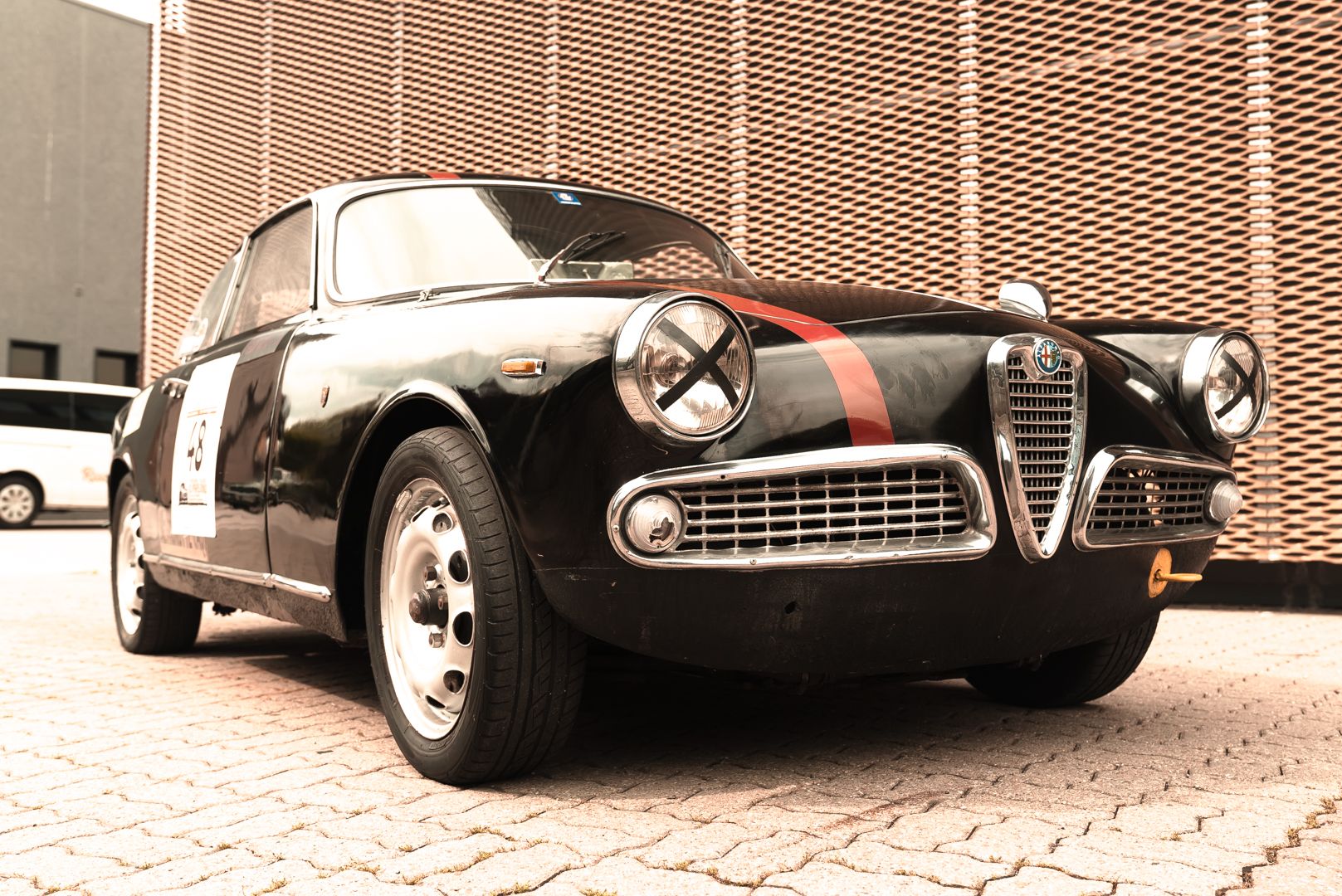 1962 Alfa Romeo Giulietta Sprint 1300 Race Car
Model

Giulietta Sprint 1300
Price upon application
Chassis no 385432
Engine no 26961
Engine Type In-line 4
Gearbox Manual 4 speed + RM
Power 80 HP (59 kW)
Max Speed 160 kph
Drive Rear Wheel Drive (RWD)

Making the Giulietta, Alfa Romeo has "invented" a new displacement for cars: the 1300 displacement.
A small engine, created to lower the cost and so the price of the car, but made to guarantee the right performance on the road.
The Giulietta Sprint was presented as a prototype at the Turin Motor Show on March 19, 1954.
The success of the new model was such huge that Alfa Romeo had to remake its production schedule: at the end of the opening day of the Motor Show, there were more than 500 pre-orders.
The car had a small engine that, by the time, was technologically very advanced.
Double over-head camshaft, the use of light alloy materials and the double body carburetor made the car able to reach 65 horsepower (initially) and a maximum speed of about 160 kph.
The modern and smooth line contributed to the success, even the price, much lower than the Alfa Romeo 1900 Super Sprint coupé Touring, tempted a lot of customers to buy it.
There were four colors combinations: Alfa red, tornado blue, gardenia white and Capri blue.

Giulietta's sales immediately reached the stars: 1,855 cars in 1956, when also the Veloce version came out.
The Veloce stands out from the Sprint thanks to a restyling of the line aimed at lightening the components of the car and, above all, an increase in power and performance.

- Car tuned and lightened for historical races and events.
- Bodywork and painting in fair condition.
- Recently restored engine and mechanics. Transmission in good condition.
- Internal rollbar and 4-point seat belt.
- Racing seat in bad condition, to be replaced. Working dashboard and dials
- 80% tires

It is possible to see the car online, booking a call with one of our commercial operators, via Skype, Zoom, Whatsapp and Google Meet platforms.