Vespa Piaggio 70° Anniversary
14 November 2016
On the 24th of March 1946, Italy and then the world would discover a new approach to day-to-day mobility which would become a way of life. A new vehicle from Piaggio's plant in Pontedera was about to radically change the work, free time and lives of millions of people. The Vespa had arrived.
Enrico Piaggio and his employees had been working for some time on a new two-wheeled vehicle project, but the initial design, known as Paperino, was none too convincing. The arrival of designer Corradino D'Ascanio marked the real turning point, as he made the substantial changes which would elevate the project to worldwide success. Moving the engine alongside the wheel improved accessibility. The front fork similar to an aircraft undercarriage allowed for quick changes in the event of a puncture. The structural bodywork and the legendary handlebar controls represented the unique and distinctive elements. The engine cowling, combined with a practical carrier, led to the name given to the Piaggio's new motorcycle, literally the "wasp", according to the official story.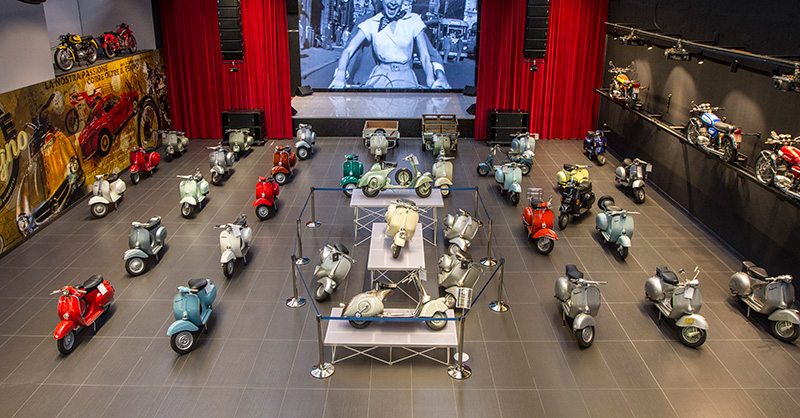 A world-class motoring legend was in the making.
Its success was immediate, right from its first appearance at the Lux cinema, during the Mechanical Engineering and Metallurgy exhibition in Turin. General admiration and immediate sales contracts followed.
The Vespa legend was beginning to shape up. Subsequent models featured innumerable variations, both large and small, which retained the spirit of the original design but which added extra features and both aesthetic and functional changes.
New models and infinite variations in use followed over the years. The Vespa was entered in races and regularity rallies, it was turned into a sidecar, but the real change would be in people's everyday lives, on the roads during the week, at the beach or in the countryside on the weekend and holidays. The Vespa was synonymous with freedom.
Seventy years later, its spirit is more alive than ever. Created to get Europe moving again during the post-war reconstruction, the Vespa is a symbolic, iconic and even artistic piece recognised around the world. Eighteen million have been sold to date to various different generations across five continents. Italian style for an always moving lifestyle.
On the occasion of the seventieth anniversary of the Vespa, Ruote Da Sogno is dedicating an entire wing of its showroom to this Italian legend with historic videos and a huge range of Vespas from different model years. The most important of these is undoubtedly "number three" – the third Vespa to roll off Piaggio's production line, and now the oldest surviving example.