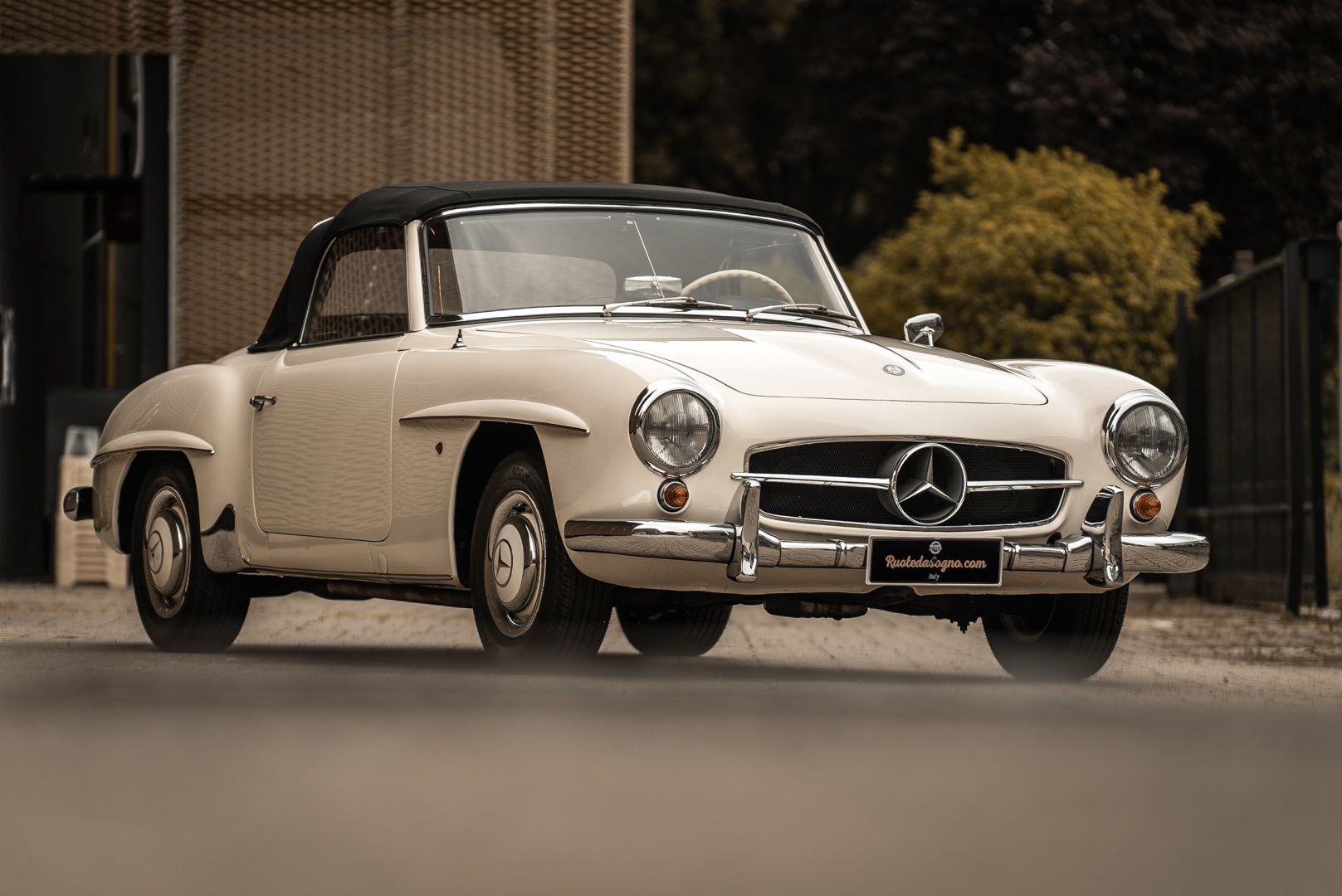 Sold
1958 Mercedes-Benz 190 SL
Interior colour

Dark Grey Leather
Chassis no. 1210428502057
Engine no. 121C 161101
Top Speed 172 km/h

TOTAL RESTORATION OF MECHANICS AND BODYWORK

It was 1955 when, at the 25th Geneva Motor Show, the final version of the Mercedes 190 SL first arrived. Its birth was a desire of Max Hoffman (official importer for Mercedes-Benz in the USA), who strongly demanded a Roadster inspired by the 300 SL, but less extreme and medium displacement and therefore also less expensive. In the era of the American economic boom, a prestigious but accessible model to the American middle class, such as the Mercedes 190 SL, was just what it took to motorize young people with good economic possibilities. Designed to "be a sport but daily car", the 190 SL still demonstrates today its ease of driving, its comfort, and its proverbial reliability, but behind these innate skills, there is a refined and at the same time solid and reliable construction, typical of German automotive industry.
Thus, it was that in the late 1950s, the dream car was for the first time within reach of a wide audience. More than 50% of all the production was exported to the United States, where this roadster has always been appreciated.

The car we propose is in excellent condition in the classic white color with black leather interior.
- Complete restoration of the bodywork and interior, with new black capote.
- German-born car and then registered in Italy for the first time in 1997.
- The internal instrumentation is fully working, original Autovox car radio with channel preselection.
- The classic white and metal bachelite steering wheel and original knobs are a must for any 190 SL lover.
- The engine has been completely overhauled and over the years many parts have been replaced with new ones or restored to new.
- The start-up happens without problem, nor power drops and, on the road, this 190 SL demonstrates, even today, its reliability and ease of driving.
- Moldings, external profiles, bumpers, emblems, and new writing.

An icon for any collector, currently with stable prices, but with a tendency to revalue.

You can view the car online, booking a call with one of our commercial operators, via Skype, Zoom, WhatsApp and Google Meet platforms.