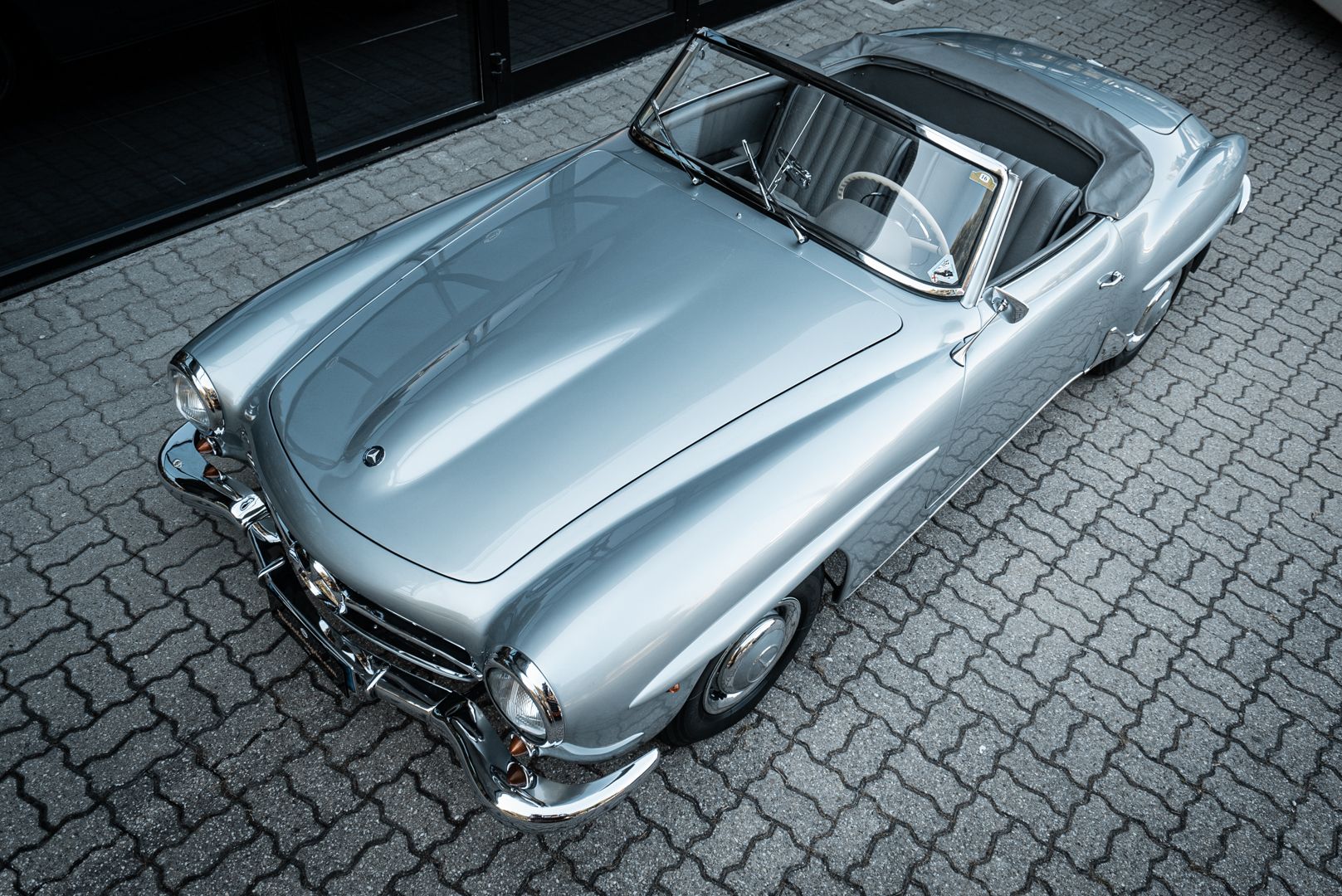 1956 Mercedes-Benz 190 SL
Body colour

Light Blue Metallic

Interior colour

Grey Leather
*Chassis No. 1210426500778
*Engine No. 1219216500774
*Odometer Reading: 4008 kms
*Current state: Conservative restoration
*Certificate and statements ASI No. 14041
*Original duplicate of the key

The History
It was 1955 when, at the 25th Geneva Motor Show, the final version of the Mercedes 190 SL first arrived.
Its birth was an intuition of Max Hoffman (official Mercedes importer in the USA), who strongly demanded a Roadster inspired by the 300 SL, but less pushed and medium displacement and therefore also more affordable.
In the era of the American economic boom, a prestigious model but accessible to the American middle class, such as the Mercedes 190 SL, was just what it took to motorize young rampants with good economic possibilities. Florida and California.
Designed to "be a sports car to driven daily", the 190 SL still demonstrates today its ease of driving, its comfort and its proverbial reliability, but behind these innate skills, there is a refined and at the same time solid and reliable construction technique, typical of the German automotive industry. Thus it was that in the late 1950s, the dream car was for the first time within reach of a wide audience.
More than 50% of all of its production was exported to the United States, where this roadster has always been very appreciated.

Our Mercedes-Benz 190 SL
The car we propose is in excellent condition in the iconic DB 353H Light Blue Metallic color with grey sur ton leather interior.
The car was partially restored in 2002, as originally by Carrozzeria Oldauto in Cremona
The bodywork has no scratches or traces of rust, even the black capote is tear-free and works perfectly. The slightly lived grey leather interiors contribute to enrich the allure of this incredibly charming car. The internal instrumentation is original and fully functional. The classic white and metal bachelite steering wheel is a real must, as well as the knob of the change of the same color.
The engine has been completely overhauled and many of its vital parts have been replaced with new ones, or restored to new. When opening the front bonnet, the impact is of real amazement to anyone, for the cleanliness and shine of its parts.
The start-up procedure takes place without uncertainties or power drops and, on the road, this 190 SL fully demonstrates, even today, its reliability and ease of driving.
An iconic object for any collector, with absolutely stable quotations, but upwards.

It is possible to view the car online, booking a call with one of our commercial operators, via Skype, Zoom, Whatsapp and Google Meet platforms.